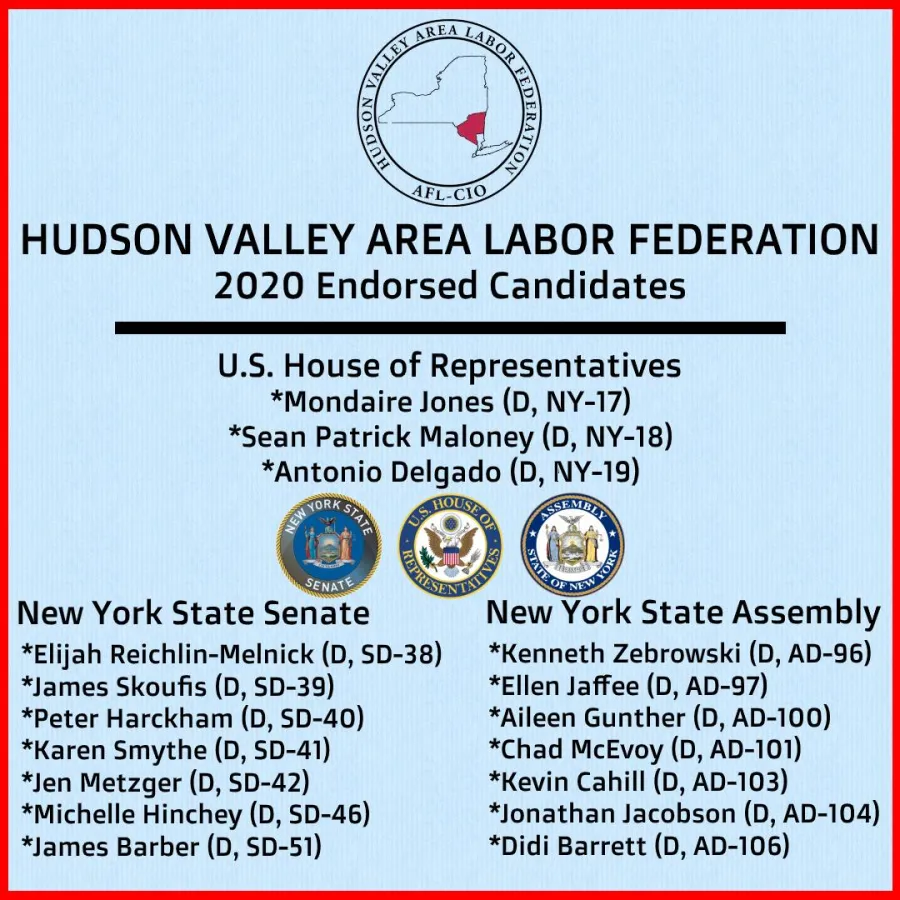 Statement from Mario Cilento, President of the New York State AFL-CIO:
"Thank you to everyone who submitted their ballot for the state AFL-CIO's endorsements in the November elections.  All endorsement recommendations were approved.

We look forward to working with all of you as well as Area Labor Federations, Central Labor Councils and local unions throughout the state to educate our members and ensure they vote for Labor's candidates."
2020 Endorsed Candidates:
Mondaire Jones for Congress (D, NY-17)
Sean Patrick Maloney for Congress (D, NY-18)
Antonio Delgado for Congress (D, NY-19)
Elijah Reichlin-Melnick for NY State Senate (D, SD-38)
James Skoufis for NY State Senate (D, SD-39)
Peter Harckham for NY State Senate (D, SD-40)
Karen Smythe for NY State Senate (D, SD-41)
Jen Metzger for NY State Senate (D, SD-42)
Michelle Hinchey for NY State Senate (D, SD-46)
James Barber for NY State Senate (D, SD-51)
Kenneth Zebrowski for NY State Assembly (D, AD-96)
Ellen Jaffee for NY State Assembly (D, AD-97)
Aileen Gunther for NY State Assembly (D, AD-100)
Chad McEvoy for NY State Assembly (D, AD-101)
Kevin Cahill for NY State Assembly (D, AD-103)
Jonathan Jacobson for NY State Assembly (D, AD-104)
Didi Barrett for NY State Assembly (D, AD-106)
**Feel free to (and please do!) share any or all of the endorsement graphics below on social media to help spread the word about the labor-friendly candidates we are supporting in the 2020 elections!**