The 25th annual Letter Carriers' Stamp Out Hunger® Food Drive
The 25th annual Letter Carriers' Stamp Out Hunger Food Drive—
Making a difference, one bag at a time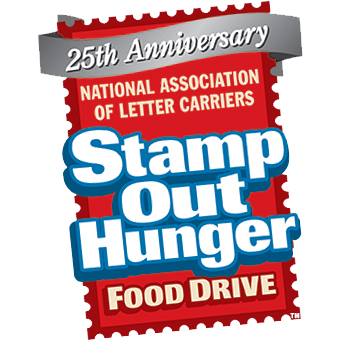 Millions of Americans live from one day to the next uncertain where their next meal will come from—a sad statistic that helps to reinforce the importance of our annual national Stamp Out Hunger® Food Drive, to be held this year on Saturday, May 13.
"Letter carriers see many of these folks along our routes each day," NALC President Fredric Rolando said. "Our food drive can make a positive difference in the lives of those who have been dealt difficult hands."
This year marks the 25th anniversary of the national drive, Rolando noted. "Our work and our success will be just as crucial this year as ever, since the problem of hunger in this country shows little sign of going away," he said.
Since the nation's largest single-day food drive began in 1993, letter carriers—ably assisted by untold thousands of family members, friends and other volunteers—have collected more than 1.5 billion pounds of non-perishable food left by customers' mailboxes and delivered to local food banks in more than 10,000 cities and towns in all 50 states, the District of Columbia, Puerto Rico, the Virgin Islands and Guam.
Last year, carriers collected more than 80 million pounds of food, well above the previous record of 77 million pounds.
Signing on as national food drive partners this year are the U.S. Postal Service, the National Rural Letter Carriers' Association, the United Food and Commercial Workers International Union (UFCW), United Way Worldwide, AFL-CIO, AARP Foundation, Valpak and Valassis.
Time is rapidly running out for branches to register. Branch presidents can now register quickly and efficiently by using the "Members Only" portal. Once they're logged into the portal, they can simply select the "Food Drive" button. Enter information into all of the fields, then select "Complete registration." A notification will be provided to confirm registration. (If you are unable to log in to the Members Only portal, call the NALC Membership Department at 202-393-4695.)
Branch registration locks in a branch's order for food drive reminder postcards, so it's important for branches to register early to ensure proper allocation of postcards.
NALC Director of Community Services Pam Donato acknowledged that many branches were putting a great deal of effort into securing sponsors of specially branded food drive bags.
[ Read More Here ]